Proudly sponsored by:
SiteGround

Professional TextPattern web hosting services: FREE TextPattern installation, FREE domain name, 24/7 support and more!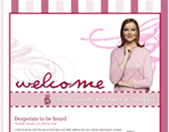 "As most Americans, I have been sucked in by the ladies of Wysteria Lane…especially by Bree. She's funny, charming, always looks elegant and, most importantly, a red head (or a ginger as Cartman would call us). I thought this set should be simple, warm and understated. As with Bree, the focus should be on the content not the glossy package. :)" – Ryan Arrowsmith
Being one of the first three submitters, Ryan wins a year of free hosting from Glyph Solutions
The package includes 150MB storage, 1.5GB Bandwidth, unlimited FTP and email accounts, mySQL databases and subdomains powered by cPanel.
15 Comments
Comment