Proudly sponsored by:
SiteGround

Professional TextPattern web hosting services: FREE TextPattern installation, FREE domain name, 24/7 support and more!

Friends of Ed

Friends of Ed, an Apress company, publishes web design- and development-related books and is the publisher of the upcoming Textpattern Solutions.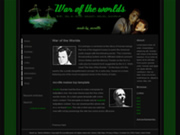 Marko Mihelcic has made ported the competition's first template based on the War of the Worlds movie.
Being one of the first three submitters, Marko wins a year of free hosting from Glyph Solutions
The package includes 150MB storage, 1.5GB Bandwidth, unlimited FTP and email accounts, mySQL databases and subdomains powered by cPanel.
Update: This template was based on andreas01 by Andreas Viklund and will therefore not be entered in the ompetition.
3 Comments
Comment