Proudly sponsored by:
SiteGround

Professional TextPattern web hosting services: FREE TextPattern installation, FREE domain name, 24/7 support and more!

Friends of Ed

Friends of Ed, an Apress company, publishes web design- and development-related books and is the publisher of the upcoming Textpattern Solutions.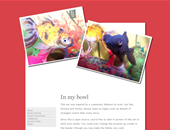 Ryan Arrowsmith's template is inpired by a community fishbowl at his job.
Our fish, Howard and Gretta, always seem so happy even as dozens of strangers watch their every move.
20 Comments
Comment